Custodial
 (non-residence buildings)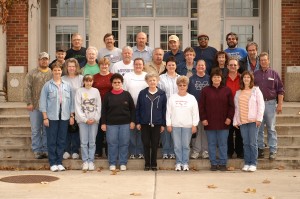 Services & Frequencies:
            Classroom cleaning: daily
            Restroom cleaning: daily
            Hallway & stairs cleaning: daily
            Public office vacuum & trash: daily
            Private office vacuum & trash: twice/week 
            Carpet cleaning: annually
            Strip & wax tile floors: annually
            Chair set-up for Commencement ceremonies
Shifts:  
Supervisor:  Jason Ragas, x4400, jragas@truman.edu
Morning: 4am to 12:30pm (Monday-Friday)
Evening: 2:00pm to 10:30pm (Monday-Friday)
Area coverage: 
          Each specific area in a building is assigned to one of the shifts, not both. For example, if an area is covered by the morning shift, it won't normally have anyone cleaning it after 12:30pm each day. However, both shifts will respond to cleaning emergencies outside their assigned areas.
Cleaning emergencies:
   After hours: call x4200 or x4205 (both ring at Boiler Plant)
   Normal hours: contact janitor in building, or call x4200
Cleaning Projects:
        To properly plan and do projects such as carpet extraction and tile stripping and waxing, advance notice and adequate access to spaces for cleaning must be allowed. Due to overtime restrictions, access during normal working hours is necessary in most cases.
Personal property:  
        To avoid the potential for damage, janitors are expected not to handle the personal property of office occupants. Therefore, office occupants who request dusting must first move their personal property items.
Staff:
| | |
| --- | --- |
| Adair House: | |
| | |
| Baldwin Hall: | under construction |
| | |
| Barnett Hall: | Jerry Hays (am), Brian Schultz (pm) |
| | |
| Fair/Grim: | Darla Humphrey (am) |
| | |
| General Services: | Jeff Chrisman (am) |
| | |
| Health Sciences: | Lilly Schubert (am) |
| | |
| Kirk Bldg: |  Brian Schultz (pm) |
| | |
| Kirk Memorial: | |
| | |
| Magruder Hall: |  Debra Mollick (am), Dennis Robinson (pm) |
| | |
| McClain Hall: | Joyce Edwards (am), Janie Nelson (pm) |
| | |
| McKinney Center: |  Brian Schultz (pm) |
| | |
| Ophelia Parrish: |  Kenny Gates (am), Jennifer Hayden (am), Roger Johnson (pm) |
| | |
| Pershing Building: | Lillian Jackson (am), Mike Elam (pm), Wanda Elam (pm) |
| | |
| Pickler Library: | Paul Detweiler (am), Kyle Elsea (am), Carol Sublett (pm) |
| | |
| Towne Museum | Jerry Hays (am) |
| | |
| Violette Hall: | David Bingham (am), Sharon Crook (pm), Terry Crook (pm), |
| | |
| Warehouse: | Josh Chrisman |